For Humans
Ample street parking available.
Comfortable reception area.
Wheel chair accessible.
For Pets
Cat friendly reception area and consultation rooms.
Modern surgical suite.
Complimentary treats.
Wide selection of toys.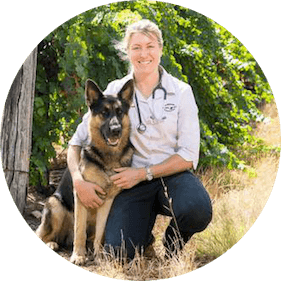 Dr. Catherine Harper
Veterinarian
BSc BVMS (High Distinction), BSc (Biology), Post Grad Cert (Business Admin) (Agricultural Consulting)

Catherine's Bio
Catherine has a degree in Biology from the University of Louisville in USA and completed her veterinary training at Murdoch University in Perth. She graduated in 2013 and has worked in the Barossa since then, initially working for Dr Peter Jones and since July 2016 as the business owner of Barossa Veterinary Service.
Her special interests include small animal medicine and farm animal welfare and production. She is passionate about improving the management practices to maximise welfare and production for the farmer through education and awareness of the latest research.  
Her hobbies include spending time with her daughter Isabelle, walking and training her crazy dogs, gardening and enjoying a good movie.
She has two dogs, Olly and working dog bitzer, Jax the German Shepherd and a cat named CC who she adopted from the clinic.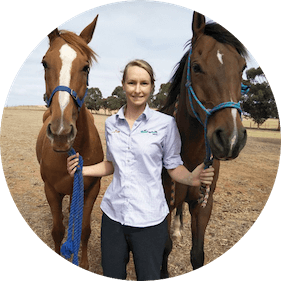 Dr. Georgia Clement
Veterinarian
Bachelor of Veterinary Medicine and Surgery (Distinction), Low Stress Livestock Handling (Cert III)
Georgia's Bio
Georgia graduated from Murdoch University, WA and joined Barossa Veterinary Service in 2018.
Growing up on a cattle farm in the coastal town of Denmark, W.A is where Georgia's passion for farm animals arose. Being surrounded by a menagerie of animals her whole life and wanting to make a difference is what drove Georgia to becoming a vet. Her special interests lie in production animal and equine medicine.
In her time off she enjoys horse riding, camping, fishing and exploring what the area has to offer.
Georgia lives with 2 dogs – Lissa and Bandit and a horse called Angus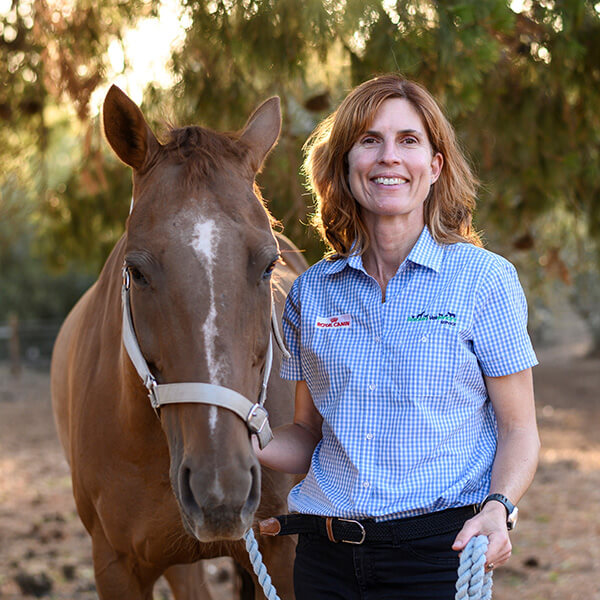 Dr. Marion Abbott
Veterinarian
Doctor of Veterinary Medicine, human exercise physiology and adult education background
Marion's Bio
Marion graduated from The University of Adelaide and joined Barossa Veterinary Service in 2019.
Marion enjoys working in a mixed practice, and especially love horse work and getting out onto farms and properties. 
In her spare time she likes to go horse riding and bushwalking, enjoys keeping fit and camping with her family. 
Marion lives with Breezy the horse, Maisie the pony, Zeke the border collie, Jinx the tiny cat and a few geriatric chooks.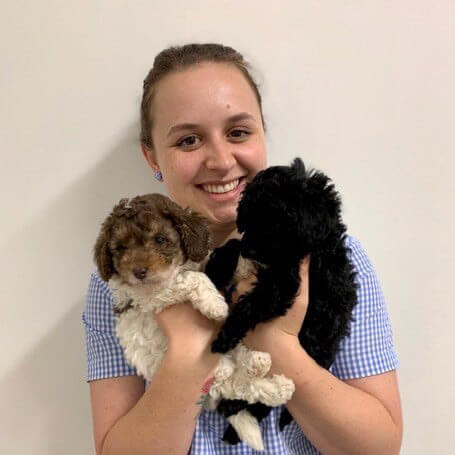 Dr. Carly Whittaker
Veterinarian
Carly graduated a Bachelor of Animal Science at University of Adelaide then studied Doctor of Veterinary Medicine at the University of Melbourne, graduating in 2017.
Carly's Bio
Carly previously worked at an equine and small animal practice in Victoria for before joining us and has plenty of equine and small animal experience. Her special interests lie in small animal ultrasonography, small animal surgery and oncology.
When not working she enjoys horse riding, drinking wine and walking her dogs. She also loves pole dancing, initially for fitness but has recently won a couple of pole dancing competitions too!
Pets include 2 rescue dogs – Tina the Kelpie and Cleo a staffy x whippet.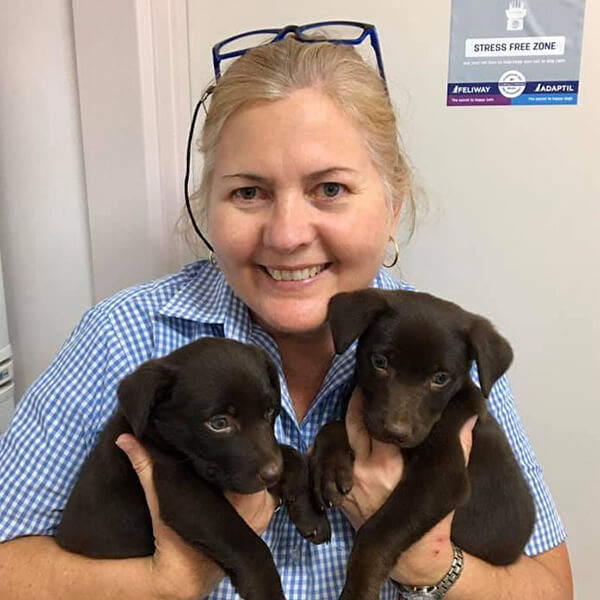 Jackie Turner
Veterinarian
Canine Myofunctional Therapist (NCTM), Veterinary Nurse, Bachelor of Science (Zoology & Biochemistry) at James Cook University FNQ
Jackie's Bio
Jackie is our canine massage and rehabilitation therapist. Specialising in the management and support of post surgery, injury, arthritis and orthopaedic abnormalities. Jackie provides supportive therapies for complete holistic pet health care and management.
Jackie's hobbies include gardening calling herself an accidental gardener, spending time with friends and family over a meal and a good bottle of wine, kayaking and escaping to her property in Keyneton where she is completely off the grid so has time to plant trees, walk and enjoy the natural environment. Jackie would love to have a zoo but would need a bit more space.
Jackie lives with 3 dogs Charlie a Maremma x Rottweiler, Jack a Red Heeler and Millie a Blue Heeler x Heinz 57, 2 cats Lilly and Ellie, a 21yr old Green Tree Frog that looks like Jabba the Hut, 6 chickens with names such as Doris, Ginger and Maryanne and a rooster called Cookie.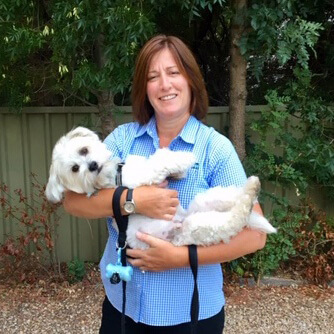 Helen Hughes
Practice Manager
Hospitality & Business Management & Project Management (UK and TAFE SA)

Helen's Bio
Special interests and expertise in this field: background working with dogs
Hobbies include cooking, visiting wineries with friends and gardening
Helen lives with Barkley the westie cross and Nina the cat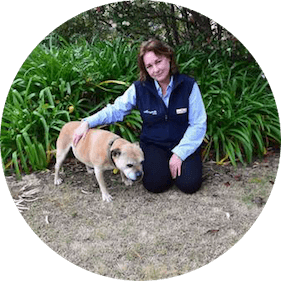 Sara Martin
HR & Comms Manager / Canine Training
Certificate IV Companion Animal Services – Open College
Sara's Bio
Sara facilitates the practices Puppy Pre-school and Junior Manners classes and assists clients requiring personal care. 
Sara is continuing her behaviour study with the Delta Society plus holds additional qualifications in Scentwork to further enhance the services for our patients preferring their own company.
Sara's hobbies include aromatheraphy and spending quality time with her granddaughter.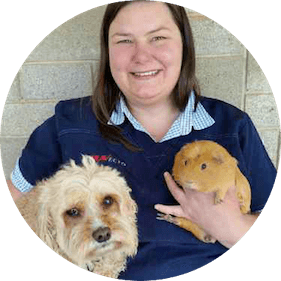 Anita Gaerth
Senior Vet Nurse
Certificate IV Veterinary Nursing at Gilles Plains TAFE SA

Anita's Bio
Anita is our pocket pet enthusiast owning a menagerie of mini lop rabbits and crested guinea pigs. She also enjoys surgery nursing, pathology and diagnostics.
Anita's hobbies are showing and breeding her pocket pets, walking with her dog and spending time with her family.
Anita lives with her cat Rascal and Tex the Cavoodle.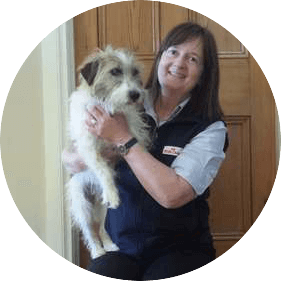 Lynette Kassebaum
Receptionist
Certificate III Veterinary Nursing
Lynette's Bio
Lyn's employment within this business extends to 35 years, initially as our veterinary nurse and now our clients first point of contact.
Lyn loves exploring on bike, foot and car with her family and her mischievous little wire-haired Jack Russell called Skipper.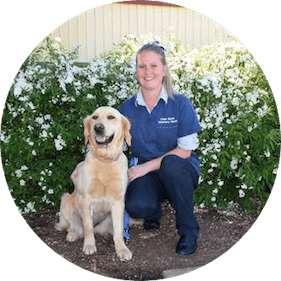 Chloe Williamson
Vet Nurse
Certificate IV Veterinary Nursing via Open Colleges NSW
Chloe's Bio
Chloe's medical interests are imaging and surgery and receives great satisfaction when patients return to their families happy and healthy
Chloe is an outstanding event rider on horses Oscar and Koda, plus she resides with two cats Gertrude and Elsie and two dogs Mallee the Golden Retriever and Carby the Labrador.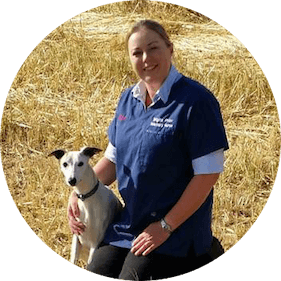 Brigita Prior
Vet Nurse
Certificate IV Veterinary Nursing at Gilles Plains TAFE SA, Advanced Diploma in Horse Husbandry and Management completed at The University of Adelaide
Brigita's Bio
Brigita enjoys all aspects of equine nursing and production animal health.
Brigita's spare time is spent with her horses, competing in a variety of disciplines including eventing, dressage and showing and loves her rural lifestyle.
Her pets include a whippet named Steve, two cats Jeffery and Ruffles and too many horses to name individually.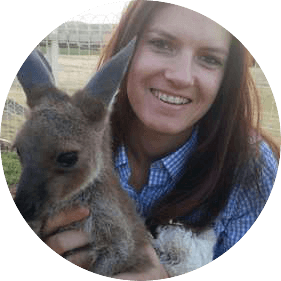 Minindi Pipinias
Vet Nurse
Certificate IV Veterinary Nursing via AIRC

Minindi's Bio
Minindi has an outstanding connection with children, assisting families in time of need.
She hand-raises and rehabilitates wildlife teaching her children this same compassion.
Minindi cares for many pets – three dogs, two cats, two ducks, two chickens, numerous birds, a yabby Mr Crabclaw, a horse Kevin, a ewe Darcy and a steer called Boris.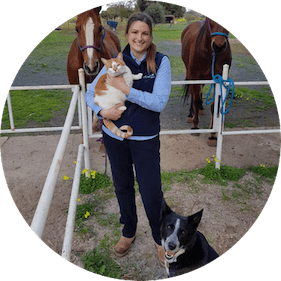 Elise Panetta
Vet Nurse
Certificate IV Veterinary Nursing at Animal Industries Resource Centre
Elise's Bio
Elise's qualifications extend to Certificate II in Conservation and Land Management, Racing Stable Hand Certificate and various Wildlife Rescue certificates. Her dedication and qualifications for fear free practicing will assist all animals hospitalised in our clinics.
Interests include medical nursing, wildlife, pocket pets and large animals.
While not at work Elise is kept busy running a horse agistment property with her partner James, her hobbies include horse riding, spending time with her pets and family and renovating the house and farm.
At home Elise has a dog called Gilbert, two cats Oliver and Mumma, a ferret named Willow, two horses Nashville and Alaska, two sheep Dolly and Rammy, one alpaca Jaslyn, two llamas Pippa and Chewie, 5 chooks and a few fish.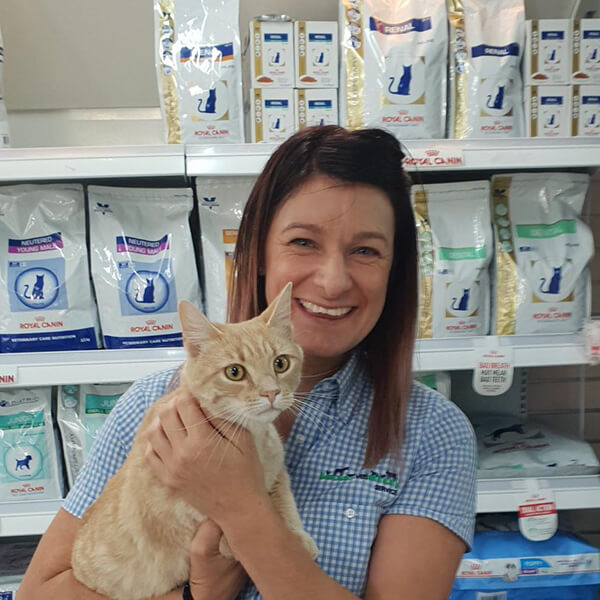 Julie Mielnik
Vet Nurse
Certificate IV Veterinary Nursing at Gilles Plains TAFE SA
Julie's Bio
Julie's expertise is in Paediatric Anaesthesia and her passion is dentistry. She originally graduated in 2009 and updated her veterinary skills in 2017.
Julie was previously employed at the AWL and now owns 2 rescue cats – Emily and Billy.
When not working, Julie enjoys running, kickboxing and gardening. She also loves spending time with her 3 beautiful children.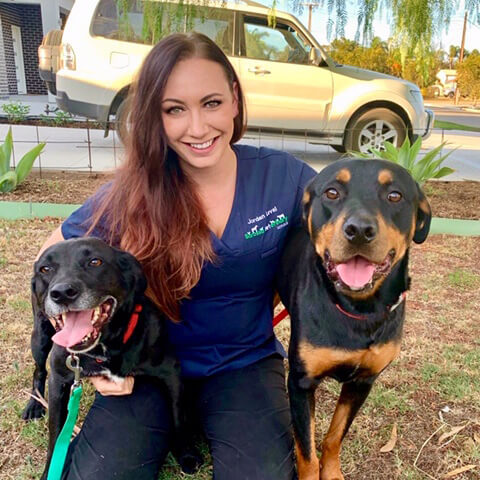 Jordan Levai
Vet Nurse
Cert IV Veterinary Nursing, Cert I Racing (stablehand)
Jordan's Bio
Jordan's qualifications include a Cert 4 in Veterinary Nursing and a Cert 1 in Racing (stable hand). Jordan has a wealth of experience in surgery and has a special interest in animal nutrition, dog and cat behaviour and orthopaedic surgery.
Jordan has a cheeky horse called TJ, a cat named Thomas O'Malley and 2 dogs named Caspian and Koda. She also had chooks and a duck called Barry, they have just been re-homed, but she is keen to have more in the future.
When not working Jordan enjoys being outdoors and anything that involves time with her animals. She also likes music, good food, good company, and a good movie.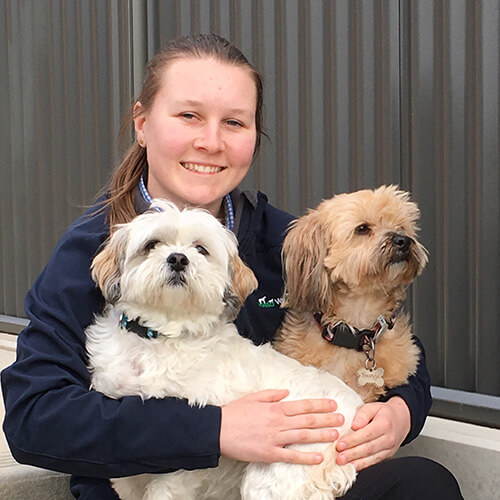 Olivia's Bio
Olivia is currently studying Certificate IV in Veterinary Nursing through AIRC and has previously studied Cert 1 in AgriFood Operations, 2 and 3 in Animal Studies too.
Olivia has a special interest in surgery and just loves helping animals in their recovery.
When not working, Olivia enjoys walking her 2 dogs Henry and George. She also breeds guinea pigs and likes spending time outdoors with her family.
At home, Olivia lives in a crowded house with dogs George and Henry, 4 guinea pigs – Alpacino, Hazel, Harley Quinn and Peanut, Joey the Pineapple Conure, 2 budgies, Myrtle the turtle, Frankie the silkie rooster, Blackie chan the chicken and Russell the red fighting fish.
Jasmine Schwarze
Vet Nurse
Jasmine's Bio
Jasmine graduated from The University of Adelaide as an Animal Scientist.
Jasmine lives in the Barossa and has an extensive knowledge of preventative treatments. She also helps with Puppy School classes and has an interest in canine behaviour.
In her time off she enjoys cooking, visiting the gym and hiking in the Barossa.
Jasmine lives with Sully the Bearded Dragon, Alfie the French Bulldog and Pawpaw the Cat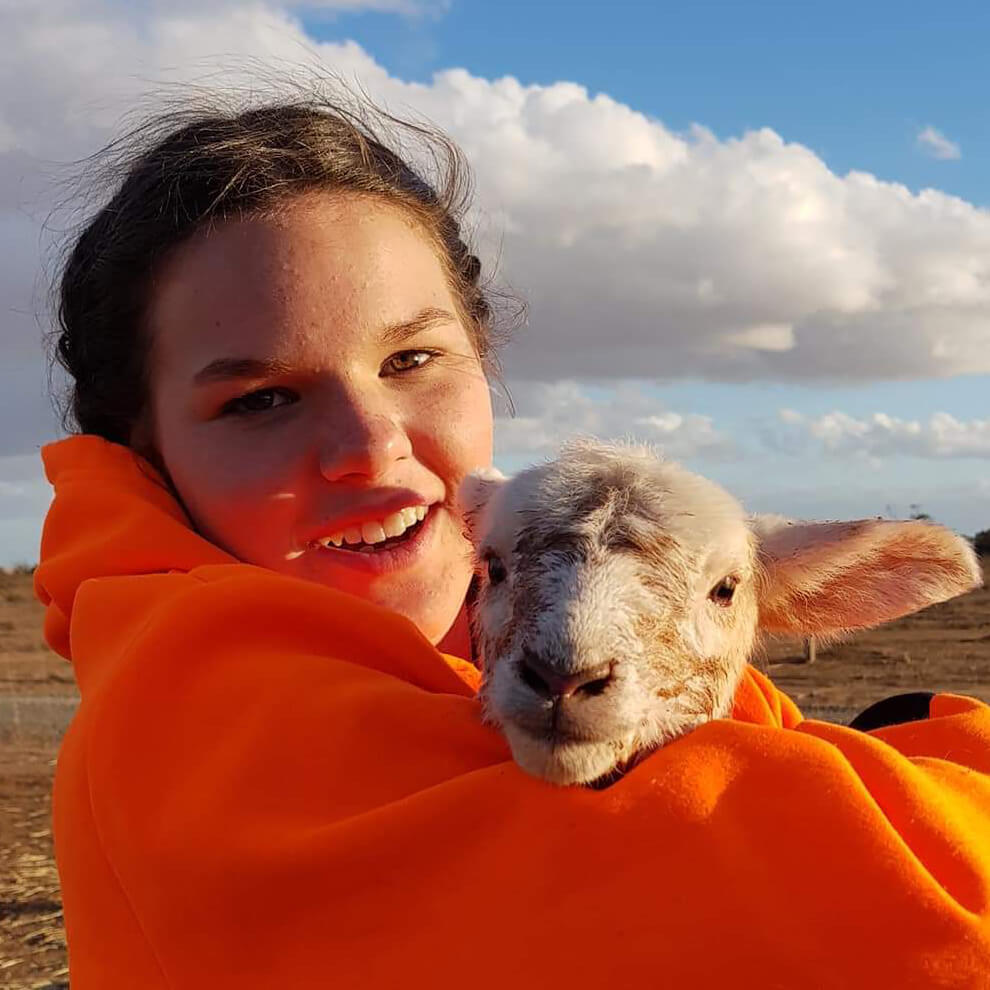 Ebony Smith
Junior Vet Nurse
Ebony's Bio
Ebony is studying Certificate II animal studies at TAFE and will then commence a Certificate IV in veterinary nursing.
Special interests consist of horses and farm animals, also included are birds and reptiles. Ebony's future hopes are to eventually study Native African animals and spend some time working in Africa.
When not working Ebony enjoys spending time with her family and their animals, riding and training horses, art and a bit of piano.
Pets at home consist of a rabbit, guinea pig, goat, pig, horses, ducks, geese, dogs, cats, a turkey, guinea fowl and chickens. I also rescue native wildlife, when they are in need of a home, including birds such as magpies and galahs as well as kangaroos and wombats.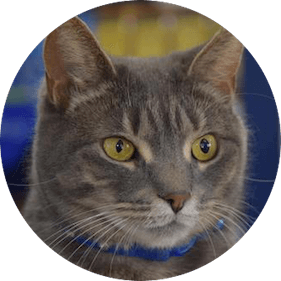 Smash's Bio
Clinic cat Smash is front-of-house concierge at our Nuriootpa clinic.
Caring for Animals
Barossa Veterinary Service is dedicated to providing the best possible health outcomes for your pet. We will provide advice and care that aligns with best practice.
Caring for People
We recognise the positive impact pets have on the lives of their owners and endeavour to improve the relationship between owners and their pets.
Caring for the Environment
People and pets have a large impact on the local and global environment. We seek to educate owners on environmentally responsible pet ownership.